April 20 - April 24, 2014
Celebrate Earth Week and ReDiscover Your Earth!
May 3, 2014
Paint, plant, pick up trash! Make Audrey Moore Rec Center and Wakefield Park more beautiful!
Saturdays
April & May, 2014
Join the campaign to get the trash out of
Accotink Creek!
Dates to be determined
in February, 2014
Join us in returning rescued native plants to the
Wakefield Run Project.
Order by
April 28, 2014
Benefit wildlife and watersheds by adding native trees and shrubs to your home and community!
April 2, 2014
Help Northern Virginia Trout Unlimited stock trout in Accotink Creek.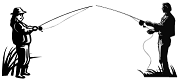 March 8th, 2014
Lake Accotink Park
9:30am - 11:30am
Volunteers assess ecological conditions in streams, based on the abundance of invertebrates.
Third Mondays
Shape the Future of Friends of Accotink Creek. Join our monthly planning meetings!
Wednesdays
Join us each Wednesday in defending our parks from green invaders.
Comment by
March 18, 2014
Support Dyke Marsh, by attending and submitting written comments until March 18th.