October 19, 20, 21, 2015

Your turn to be heard!
GET I-66 ON THE RIGHT TRACK - THE TRACK TO TRANSIT!
October 14, 2015
Help Northern Virginia Trout Unlimited stock trout in Accotink Creek.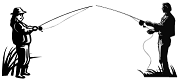 October 24, 2015
Join Team Accotink to push back invasive wisteria threatening this biological gem!
Weekends
September & October, 2015
Join the campaign to get the trash out of
Accotink Creek!
November 3, 2015
Remember your watershed when you vote this November.
While the weather's warm,
Spring, Summer, & Fall
Summer's here and the time is right for marking storm drains in the street!
Through late 2015
Let Fairfax County know your feelings about protecting our native habitats.
December 12th, 2015
9:30am - 11:30am
Volunteers assess ecological conditions in streams, based on the abundance of invertebrates.
Third Tuesdays
Shape the Future of Friends of Accotink Creek. Join our monthly planning meetings!
Wednesdays
Join us each Wednesday in defending our parks from green invaders.