February 27th, 2016
7:45 a.m. - 1 p.m.
Meet the Mt. Vernon supervisor and connect with other community and environmental groups.
Spring 2016
Assist the Friends of Royal Lake with the Royal Lake Mussel Rescue Party!
February 10, 2016
Help Northern Virginia Trout Unlimited stock trout in Accotink Creek.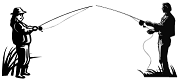 March 12th, 2016
9:30am - 11:30am
Volunteers assess ecological conditions in streams, based on the abundance of invertebrates.
Third Tuesdays
Shape the Future of Friends of Accotink Creek. Join our monthly planning meetings!
Wednesdays
Join us each Wednesday in defending our parks from green invaders.
May 7th, 2016
10:00am - 12:00 noon
Use Audubon Naturalist Society's new Creek Critters app to collect and identify stream invertebrates.
"The best time to plant a tree is twenty years ago. The second best time is now."